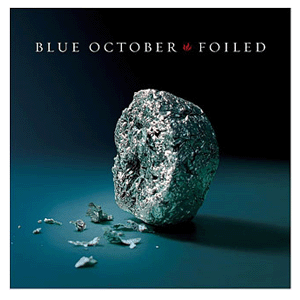 While you're all working hard on making your wreath balls and writing your X-mas lists, I'm going to tell you all about a band called Blue October.
When my dorm had burned down and I was trapped in the Overlook Hotel, my roommate and I were watching VH1 one afternoon, where the video for "Into the Ocean" was featured. The song immediately struck something in me and I immediately downloaded it and listened to it over and over and over and -- well, you get the gist.
Not long after, I purchased the entire CD, "Foiled", and set about listening to it. However, I only really listened to "Into the Ocean" and "X Amount of Words", because I clearly have an attention span that will allow only two items into my mind at any given period of time.
But I just recently listened to "Foiled" in its entirety, and the CD blew me away.
Blue October is comprised of Justin Furstenfeld (lead vocals), Jeremy Furstenfeld (drums, percussion), Ryan Delahoussaye (violin/viola, mandolin, piano, vocals), C.B. Hudson (guitar) and Matt Noveskey (bass guitar). The band originated in Houston, TX.
The songs are written by Justin, who is a recovering drug addict and alcoholic, and has battled with bipolar disorder through most of his life. Most of the songs are about his battles with addiction, overcoming them, and letting go. And even for the listeners who have never, first-hand, experienced drug or alcohol addiction, the lyrics are relatable and hypnotically beautiful, from the flow and ebb beat of "Into the Ocean" to the smarting, harsh "Hate Me" to the forgiving and hopeful "Overweight". All of the songs are poetry at its finest, and make me wonder just what it is I'm doing with my writing career, because I could never string together those sentences and have them flow like that.
Blue October is innovative and not afraid to throw addiction, something society tends to sweep under the rug and hope it will resolve itself, into the faces of the listeners, not to demand sympathy but rather to remind that there are people out there who
need
sympathy, or even just a kind word or smile. And they pull that off without sounding preachy in the least.
I recommend "Foiled" to anyone who knows what it's like to hurt and feel alone, or knows someone who feels that way, or just simply wants to listen to beautiful words put to beautiful music.
"Foiled" definitely gets a 5 out of 5.